Blood Type: Unknown

Even amongst the elite troops of SOLDIER, Sephiroth is known to be the best. His past is locked away in a confidential file held by Shinra, Inc. His giant sword, which only he can handle, has extremely destructive power. Said to have disappeared in a battle years ago, his current whereabouts are unknown.



Tifa Lockheart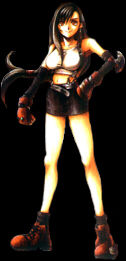 Job: Bar Hostess

Age: 20

Weapon: Glove

Height: 5'4"

Birthdate: May 3

Birthplace: Nibelheim

Blood Type: B

Bright and optimistic, Tifa always cheers up the others when they're down. But don't let her looks fool you, she can decimate almost any enemy with her fists. She is one of the main members of AVALANCHE. She and Cloud were childhood friends, and although she has strong feelings for him, she would never admit it.



Vincent Valentine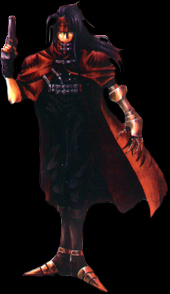 Job: Unemployed

Age: 27

Weapon: Gun

Height: 0'0"

Birthdate: October 16

Birthplace: Unknown

Blood Type: A

A Mystical man, stern and upright while at the same time dark and mysterious. His past connection with Shinra, Inc. is what made him join Cloud and the others. He may seem frail at first glance, but hidden inside his body lurks a fearsome power.



Yuffie Kisaragi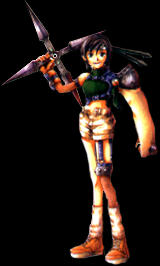 Job: Materia Hunter, Ninja

Age: 16

Weapon: Knife, Boomerang, and Origami

Height: 5'2"

Birthdate: November 20

Birthplace: Wutai

Blood Type: A

Although you'd never know it by looking at her, Yuffie comes from a long line of Ninja. She forced herself into the group just to get a "certain something". She's sneaky, arrogant and "way" selfish. But with her super shuriken and her special skills, there isn't anyone else you'd rather have on your side in a fight.